About the Author
John P. Bridge is the author of two previous books on tile. Ceramic Tile Setting was published by McGraw-Hill in 1992. That book remains in print and is available at Amazon.com. In 2003, Bridge founded Mistflower Press to publish Tile Your World: John Bridge's New Tile Setting Book, which has since become an Amazon.com best seller. The Kerdi Shower Book, his latest effort, is intended as a supplement to Tile Your World.
The author attended Schluter training at the Ceramic Tile Education Foundation in early 2002 where he became acquainted with the products made by Schluter Systems, which include the Kerdi membrane featured in The Kerdi Shower Book. Since becoming "Schluterized," he has constructed numerous Kerdi showers, refining his methods in the process.
Bridge is founder of the John Bridge/Tile Your World Forums on the Internet. Begun in 1999, the forums have become the most arrived at tile-related destination on the Internet for do-it-yourself tile setters and tile industry professionals alike.
A veteran of 35 years in the tile business, Bridge resides in Houston, where he is a residential tile contractor.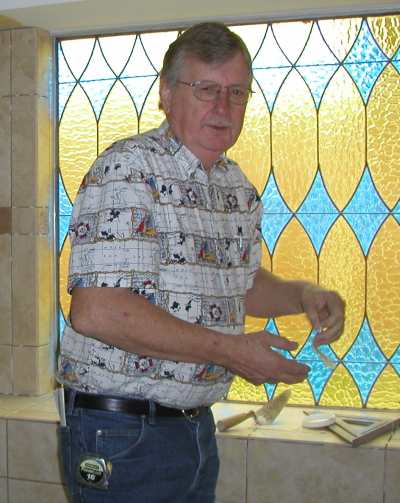 Could anyone possibly resist this handsome devil?

Buy The Kerdi Shower Book now.